What is a natural burial ground?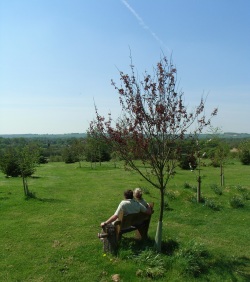 There are many interpretations of the term 'natural burial ground'. Some people refer to 'green burials, 'eco-cemeteries', woodland burials' or 'meadow burials'. Each term may refer to a slightly different environment and method of management, but we feel that the ethos is the same for each.
We have created Acorn Ridge as an environment where the body or ashes can be returned to the earth to decompose or disperse naturally. The body should not have been subject to any type of chemical preservation process (such as embalming), and only bio-degradable coffins, urns or shrouds should be used. The site itself will be developed gradually and in harmony with the existing environment, making sympathetic use of native species of trees and flowers to further enhance the natural beauty.
Use of pesticides will be minimal, instead encouraging a healthy balance of natural predators and prey, whilst making special provision for endangered species.
.